Re: Eight Balls of Fur!
Posted by 8BallsofFur on Oct 04, 2017
I had thought of changing up their legs stripes a bit, though I do really like the rainbow stripe pattern they've got. I had thought of possibly giving the feet some changes too....I dunno, well see. I'm a little leery about taking heat to the fur, but hey, I'll try it out, however...I bought some acrylic yarn and been messing around with wefting it...OMG. Its amazing! I think I screwed up the first styrofoam ball I tested it on, only because the fur is really, really bushy and thick. More so than I anticipated. On a three inch ball, it makes it look twice that size. Its amazing though, and I will totally be using it for hair on the Little Chrissy puppet.
BTW, I guess your granddaughter hasnt heard of Jerry Lee Lewis yet.
Re: Eight Balls of Fur!
Posted by

Shawn

on Oct 05, 2017
Be very careful when using heat on fake fur. Most are acrylic based (plastic) and plastic melts. That being said a low heat can work wonders. Also steam heat can be used to smooth and manipulate synthetic materials. We us it in theater for synthetic wigs. Never had a problem with steam heat but take a flat iron to a non human hair wig and you melt it.
Re: Eight Balls of Fur!
Posted by 8BallsofFur on Oct 05, 2017
Yeah...my mom once put an entire fur blanket into a dryer at a laundromat. That taught me heat and fur dont mix too well, though its a good idea if, and only if, you want to get that sort of nappy/shag look (think Grover). Anyway, I got finished last night covering a ball with welted yarn and it looked awesome. It was very fluffy looking though, so I took a blowdryer to it to see if I could get the fur to clump together a little, and that worked good. The crux of wanting shaggier fur for the furballs was I wanted the fur to have alot of movement. They way I figure is since the furballs have no faces, you'd have to show their character in their movement, and the right fur could potentially help with that.
Re: Eight Balls of Fur!
Posted by

Gail

on Oct 05, 2017
Can you show us a picture of the fuzzy ball you made with wefts when you get time? She used 140-160 temp for straight iron, higher burned the wefts. I did not know irons had variable temps. Not sure what temps hairdryers use.
Did you see the video where Mozykyto used chalk and permanent markers to make color tipped hair and layered colors. Don't know why that could not be done on existing fur too.
How to Make a Doll Wig | Ombre Wefts (2 WAYS!) + Kitty Ears Hairstyle Wig | Mozekyto #12
Re: Eight Balls of Fur!
Posted by 8BallsofFur on Oct 05, 2017
Here we go. Its actually a bit more purple than the pics show.
Re: Eight Balls of Fur!
Posted by

pagestep007

on Oct 05, 2017
Wow that really is furry! Snail, it was good to go through the Micheal Savage video again, Do you use the corset bone hoops in your puppet bodies? I just recently used some PVC strips. It worked quite well. 8ballsoFur, what did you stick the wefting on with?
Re: Eight Balls of Fur!
Posted by 8BallsofFur on Oct 05, 2017
Hey pagestep, I basically glued on the wefts. I wrapped them in a sort of tassel like structure, punched a hole in the styrofoam ball, and glued the wefts in. So far, works like a charm. Heres another furry fella that I finished today. Working on the Yellow furball now. Its a pretty cool process, though it takes like half an hour to brush each ball...reminds me of brushing my husky. All said and done I am in LOVE with the fur on these guys! Its shaggy, as thick as I want it to be, and moves alot. Its exactly what I wanted. Snail, I owe you big time.
Re: Eight Balls of Fur!
Posted by

Gail

on Oct 07, 2017
They look fantastic! I found out just how hot my hair dryer is. I accidentally spilled coffee on my laptop keyboard and tried to dry it with my hairdryer on high. I melted the keys and I was a couple of inches away from them moving back and forth. So word to wise use lower heat setting on a sample first to see if heat will ruin your project ....or computer.
I had another thought today as I watched Sesame Street. Rosita is green puppet that appears to have feather strand highlights in her fur hair. The feathers move so much more than fur and would give more interesting motion. I want to try this out.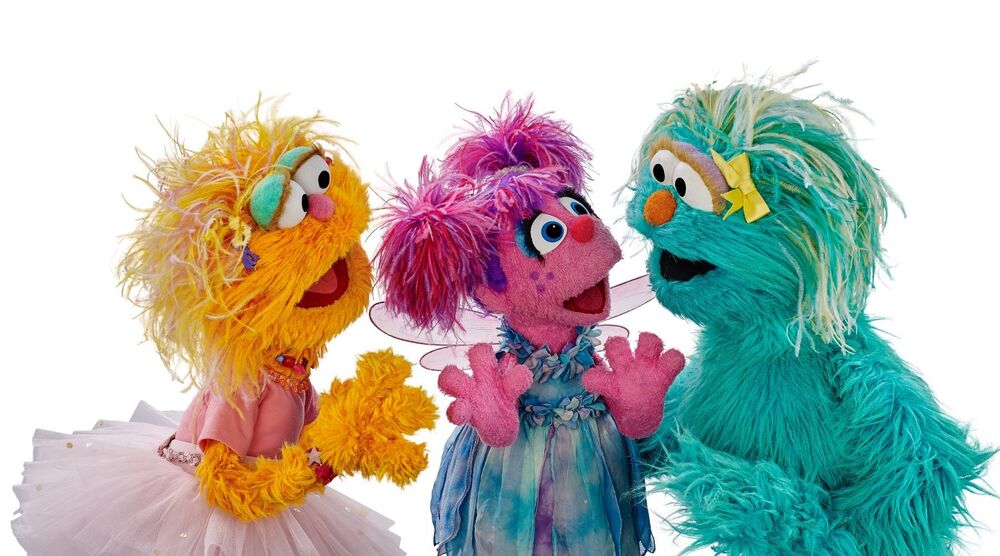 Steven I have not used boning, never found it in the store, but did use thin plastic tubing loop once. I used hula hoops for a large whale puppet once. I like that idea of light weight reinforcement and intend to use it in future projects. Would like to see your PVC idea.
Re: Eight Balls of Fur!
Posted by 8BallsofFur on Oct 07, 2017
The yarn is a great substitute for using feathers for hair. I've made some longer stuff, and given you get a yarn that is loose and soft, you can get some great results. Just like feathers, yarn wefts have a ton of movement. As for the hair dryer, it works wonders on getting the fuzziness of the wefts down and making the fur come together in locks.
Re: Eight Balls of Fur!
Posted by

Gail

on Oct 07, 2017
Feathers are cool but they do wear out faster and they are more expensive. I was thinking that the insertion of a few feathers that would move differently than the fur might add interest, but would not match your purposed to recreate originals. Did you get a lot of fuzz that came loose when you brushed the yarn? I must have had bad quality yarn, what brand did you use?
Loading
No More Post
Error