Ortha
Posted by

Tioh

on Aug 30, 2017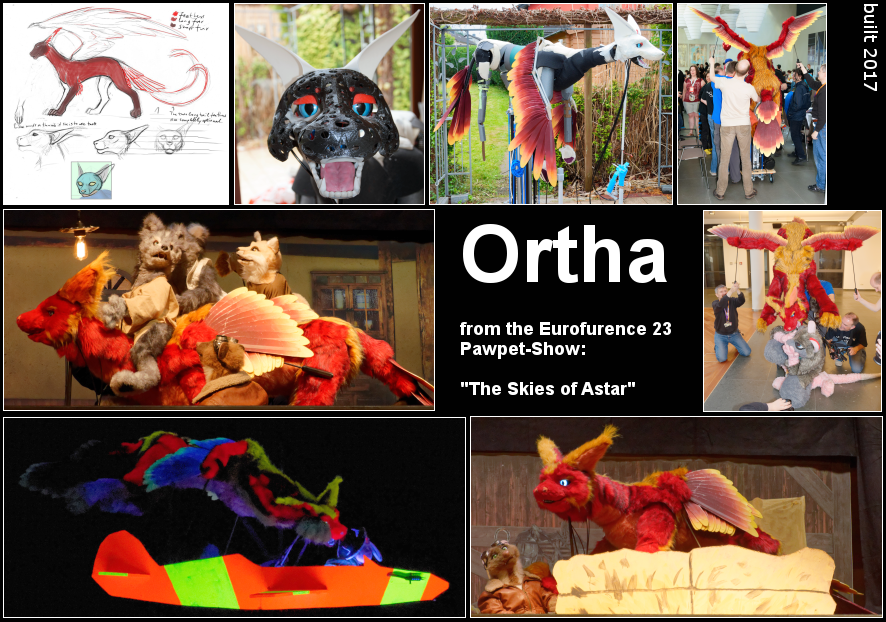 Here are some pictures of Ortha from the Eurofurence 23 puppet show: "The Skies of Astar" (an almost 3-hour amateur live show with took place in the Estrel Hotel, Berlin, Germany, 19th August 2017). She is a giant 4-legged puppet with foldable wings, that is played by 2-6 puppeteers (depending on what features are used). She can be carried by one puppeteer, put on a rolling rig or be lifted by two ropes. It took almost every weekend from January to July 2017 to build her - with usually 2-4 people working on it. I mostly worked on the head - making a 3d-model, 3d-printing it, building all the Bowden cable animatronics. Ortha is about 2.6meters long, weighs 14.98kg.
Her features include:
- 3d-printed head (PLA) Bowden-cable controlled animatronics (eyelids, ears, mouth, head-tilt front/back)
- foldable wings (each wing has three segments - the feathers of the second segment tilt when the wing closes) with removable rods and magnetic connectors on the body (to keep them in place in the folded position)
- control-rod for the head with 3d-printed levers, grips and battery holder
- blue LED-lights in the eyes (with a switch on the control-rod)
- movable eyelids
- folding ears
- movable lower-jaw
- tiltable head
- flexible neck and tail
- fully articulated front-legs
- movable back legs
- front-paws with inbuild gloves for the puppeteer
- back-paws with rods
- inbuild connectors that can be used to hold the weight of the puppet from above or below (14.98 kg)
- a hand sewed fake-fur cover that was painted with UV-paints (4 colors sprayed on, rubbed in with gloves and details drawn with UV-markers)
How Ortha was made (blog-post with many pictures ):
https://tioh.livejournal.com/131664.html
We made several videos to test the puppet while we made it - here is a playlist:
https://www.youtube.com/playlist?list=PLHuH-0GDY9CtekiyRyLQv78YAG02n2xte
Re: Ortha
Posted by

Shawn

on Aug 31, 2017
Amazing puppet! Really pleased you took the time to document the build process. Thanks for sharing her with us.
Re: Ortha
Posted by

Tioh

on Sep 01, 2017
I took more pictures. If anybody wants to see more details just tell me.
Loading
No More Post
Error