What did they use?
Posted by Yurifica on Nov 16, 2017
Very new to this place, wasn't sure if i ask this question under the area where you discuss your own puppet making process, or maybe the behind the stage one since it discusses what goes into making everything or what... But my question is this: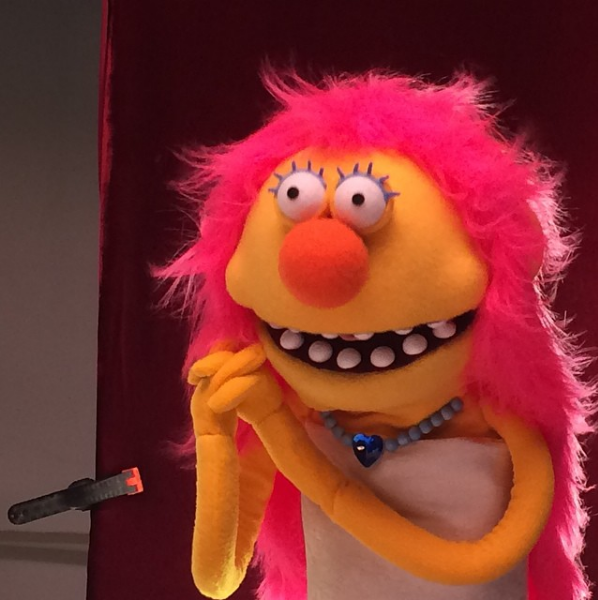 This is the "special one" puppet from episode 3 of don't hug me i'm scared.
I absolutely adore how they did her hair and would really like to be able to try and make something similar with any puppets I might make in the future.
Does anyone know what they used to make it look like this, how they got it on, or any tips or suggestions in general for how i should go about this?
Is it some kind of faux fur? or a wig? And would either of those work? Would I need to attach either in a different manner from the other if either way works (like for example maybe hot gluing works for one but wouldn't be strong enough or would burn the other.)
Re: What did they use?
Posted by

Franklin

on Nov 16, 2017
Re: What did they use?
Posted by

Shawn

on Nov 17, 2017
It looks like it is fake fur. I prefer that everything be sewn on a puppet that can be so I would sew it on but some folks prefer to hot glue hair on. Hot glue won't damage or burn either wigs or fake fur but the problem is if you leave your puppet in a hot room or car the hot glue is going to heat up and release. Even when you use fake fur you can make a wig of sorts. you duplicate the part of the pattern for that area and then adjust. For example she has long hair so you would need to extend the pattern down the back.

Like I said in the picture it look like they used fake fur but looking at other puppets from the show I can see that they also use marabou. It is ostrich feathers that have been twisted into a long strand. There is a cord running down the center of marabou that you can stitch to the head or glue. You have to pull back the feathers to expose it.
Re: What did they use?
Posted by Yurifica on Nov 17, 2017
Thanks for taking the time to look at the show, @Shawn Sorrell, and for the thorough explanation. I think I will definitely be using sewing in place of hot glue now!

@Puppet Dude, thank you for the pics. What type of hair is that?
Re: What did they use?
Posted by

Franklin

on Nov 17, 2017
it's just a standard faux fur. polyester/nylon blend. can be picked up just about anywhere, even Etsy.

Re: What did they use?
Posted by DustinPri on Nov 24, 2017
Good to know. I wasn't sure either. Thanks for sharing the knowledge to you and Shawn.
Re: What did they use?
Posted by 8BallsofFur on Nov 26, 2017
I agree, it looks just like fur fabric. Actually, looks like a kinda wiry one I saw at my local Joanns. Just a suggestion, try experimenting with yarn wefting. Its got a different texture than typical acrylic furs, but you can make fur that is longer, which makes for great puppet hair.
Re: What did they use?
Posted by

Gail

on Nov 27, 2017
For using fake fur you can turn under the front edge a little while you sew so the under webbing is not visible on front hairline. I hand tack down the edges on the fur first then tack the "wig" onto the head with curved needle or doll needle that is very long. You don't have to sew it down all over, just edges and a few points in the middle to hold it on. That pink hair looks like it may have also been trimmed more for the long layered look it has. For longer fur hair you need to wrap it around on the longer side and back part or you will see backing web at the neck. Hold the fur up on the head and you will see what I mean. Hair spray can lift up those little sections for you too.
Re: What did they use?
Posted by Floydaroo on Dec 28, 2017
For hair styling, I use a 1:1 ratio of glue to water in a mister bottle.
Loading
No More Post
Error