Pyrotechnics Puppet Size
Posted by Hampuppets on Dec 30, 2015
Hi all,

This may sound quite ambitious but I wondered if anyone had had any experience with using pyrotechnics within a puppet show. For example, like in a panto where a fairy enters and you get a mini bang and a sparkle shower or flash?

I'm looking for a solution that is safe and has the same effect and can be easily controlled.

Ham
Re: Pyrotechnics Puppet Size
Posted by Hampuppets on Dec 30, 2015
I should add that this would be within a marionette theatre so would need to be smaller scale than a regular theatre size.

Ham
Re: Pyrotechnics Puppet Size
Posted by

Shawn

on Dec 31, 2015
Do you have a magic shop around you? There is a product called flash paper. It can be set off with flame, spark or heat. A lot of magic shops have small "flash pots" which are really just a small piece of metal tubing set in a base with a sparker or heating element in the bottom. You put the flash paper in it and then when it is set of you get a flash. They also have flash powder and that can be used in them. Have a look at this site for examples of what I am talking about.
http://www.theatrefx.com/flash-paper-flash-cotton-flash-string.html
Re: Pyrotechnics Puppet Size
Posted by

Shawn

on Dec 31, 2015
They have some of the smaller devices on their site also. Both hand held and floor mount.
http://www.theatrefx.com/flash-devices.html
Something to remember though that you might have to get a license to get some of these things depending on what state you are in.
Re: Pyrotechnics Puppet Size
Posted by

Tioh

on Feb 23, 2016
A pyro-effect on stage - very similar to that you can buy at a magic shop: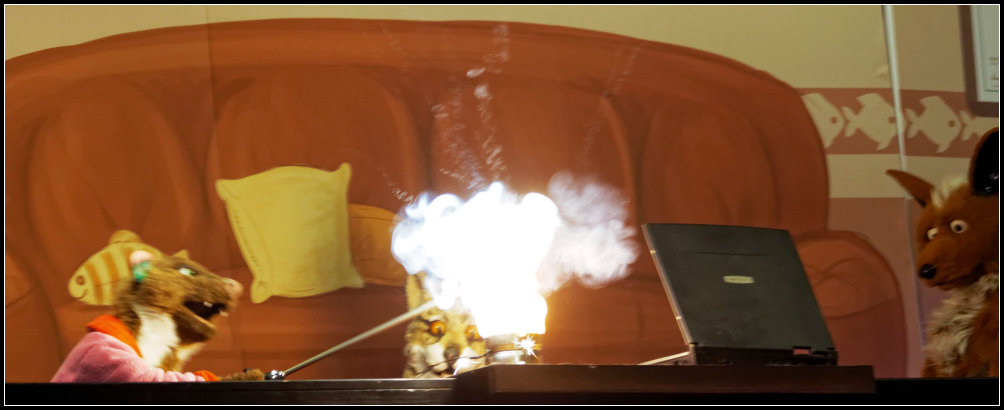 Fog-machine and lights from below:

Loading
No More Post
Error